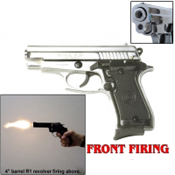 Click Here To See Complete Details Or To Add To Cart
P229 Front Fire blank firing 9MMPA Sig Sauer Replica Blank Gun-Chrome
SKU: P229FF-C

Sig Sauer P229 Replica Front Firing 9MMPA Blank Firing Gun Chrome Finish. This is a beautiful Replica of a Sig Sauer P229. The P229 is used by the US Coast Guard, Homeland security, US immigration and customs agents and other US government entities. Our Front firing P229 produces the sound, flame...

---
Our price: $157.00
Details