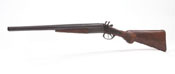 Click Here To See Complete Details Or To Add To Cart
Replica Stagecoach Shotgun Non Firing
SKU: 22-1115

WORLD FAMOUS "COACH GUN" Double barrel Shotgun, Non Firing. If you've ever called "SHOTGUN!" getting into a car, this is where it all started. The Coach Gun received its moniker on the stagecoach runs of the Wild West, when outlaws and Indians targeted lonely coaches on long and uncertain trails ...

---
Our price: $199.00
Details